Employees are PGNiG Group's most valuable asset, instrumental in delivering its stated strategy.
The PGNiG Group is one of the largest employers in Poland. Its workforce is comprised of highly-qualified professionals with extensive experience. At the same time, it is frequently the first employer for many young people. Proper application of employee skills and competencies allows the organisation to offer products that meet customer expectations and to ensure Poland's energy security. Employee commitment to ensuring the growth of the PGNiG Group guarantees delivery of strategic plans and achievement of ambitious goals that contribute to building stable market leadership. A strong and recognisable brand is capable of attracting specialists and qualified professionals ready to work as a team to leverage their potential and contribute to its growth. A key aspect of the Group's operations is providing its employees with stable employment and rewarding career opportunities in a safe and friendly working environment.
Key metrics:
Workforce structure at the PGNiG Group at the end of 2019, by gender
Outcomes: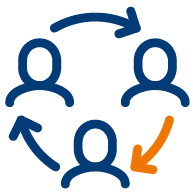 annual retention rate for PGNiG employees who were still employed 12 months after returning from parenting-related leave in 2019:
new hires as a percentage of total workforce in 2019 (8.05% in 2018)
leavers as a percentage of total workforce in 2019 (7.29% in 2018)
employees on parenting-related leave in 2019 (1.32% in 2018)
average number of training hours per PGNiG Group employee in 2019 (25 hours in 2018)
Silver Card of the Safe Work Leaders' Forum – PGNiG SA
In the PGNiG Group, the number of accidents at work fell by 18.8% year on year. The number of persons who were injured in accidents at work decreased by 22.5%.
However, two fatal accidents at work occurred at two PGNiG Group companies in 2019 (no fatalities were reported by the Group in 2018).
No cases of corruption were recorded by the PGNiG Group in 2019.
| | | |
| --- | --- | --- |
| PGNiG's headcount by segment | PGNiG Group 2019 | 2018 |
| Exploration and Production | 6,747 | 6,958 |
| Trade and Storage | 3,061 | 3,051 |
| Distribution | 11,482 | 11,542 |
| Generation | 1,833 | 1,813 |
| Other Activities | 1,663 | 1,510 |
| TOTAL | 24,786 | 24,874 |
Our approach to performance management:
We promote and implement good hiring standards by pursuing a professional HR policy and building a friendly workplace, which is one of the goals under the PGNiG Group Sustainable Development Strategy for 2017−2022
We refine and support our IntroDay onboarding programme and the Managers Academy management development programme
We foster the development of our mentoring programme and take proactive measures to ensure access to qualified staff
We raise employee knowledge of the ethical values and principles followed in the workplace
We apply uniform OHS management standards to constantly improve employee safety
How does human capital affect other types of capital?